Allinq Infrastructure Management
There are various stages in the lifecycle of any network. We deliver services and expertise for the active and passive network at every stage. We explicitly take control of the bigger picture. The points where the stages interact or come into contact are precisely where we can make a real difference. That translates into an extended lifespan, or substantially higher capacity, significantly reducing your total cost of ownership.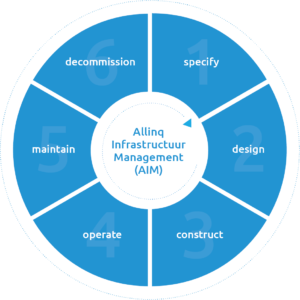 Specify:

We draw up a clear programme of requirements

This expertise provides the foundation for the quality of the telecom network.

Our detailed knowledge of operational infrastructures leads to the drafting of a programme of requirements. Naturally in close consultation with the network owner. We contribute ideas based on opportunities offered by the latest technology. We also point out any risks that should be taken into account prior to the start of the process. The result is a carefully considered, detailed set of requirements, and a firm grasp of the projects involved.
Read the case
Design:

We deliver a clear blueprint

Our experienced engineers can take care of the entire design process. We also enjoy working with partners to design parts together. Our design process consists of five phases in which we encourage innovation: Concept – Design – Prototyping – Pilots – Final design.

This enables us to see whether we can design parts smarter, more efficiently or more effectively. The result is a blueprint in which all specifications, standards and activities are clearly laid out.
Read the case
Construct:

We closely manage the construction process

During the construction of the network, we closely manage the project.

The construction work is planned precisely, executed with care, closely coordinated, verified and documented. We are always open to improvement, so we work with the smartest technologies, which results in high productivity, low margin for error and high reliability. With many decades of experience as a contractor of infrastructure, we are exceptionally proud of what we do. This is reflected in the quality we deliver.
Read the case
Operate:

We monitor performance 24/7

Thanks to our thorough knowledge of telecom infrastructure, we are extremely well equipped to manage networks.

In our ultra-modern Network Operating Centre (NOC), our clients' infrastructures are monitored around the clock. We monitor performance and manage any emergencies in a professional manner. This can be done by intervening directly or by sending in our emergency team. We pro-actively contribute ideas on possible improvements or maintenance work.
Read the case
Maintain:

We maintain networks and seek opportunities for improvement

Professional network management extends lifespan, reduces the margin of error and creates opportunities to increase capacity.

We work on telecom infrastructures every day, closely follow the telecom market, and constantly pioneer innovations. We regularly provide interesting new solutions, either proactively or when consulted, that have the potential to directly improve networks.
Read the case
Decommision:

Our construction is circular and smart

Circular construction is smart construction. As soon as networks become redundant, for example due to a merger between providers, we help to dismantle the infrastructure professionally.

We disconnect and disassemble the wiring, remove the equipment cabinets, repair the floor, send off equipment with confidential information for certified destruction (wiping or shredding) and make sure that materials are disposed of correctly. If we see opportunities for the reuse of the old network, we take the initiative in doing so. We also regularly combine the decommissioning of an old network with the construction of a new network, in order to minimise both the necessary investments and any nuisance for local residents.
Read the case