Connecting together
We make connections together: Whether you are a field engineer, a planner or a manager. Together we form the foundation of Allinq. That's why we are constantly investing in the development of our employees. Every day, we challenge one another to keep surprising our clients in a positive way. And we encourage one another to play with new ideas. This makes Allinq a dynamic environment with many opportunities for growth.
An employer you can rely on
It's important to us that our employees feel at home with us. We do a lot to achieve that.
More
At Allinq you can grow in your own profession
At Allinq you get better. A little bit every day. That is our shared objective. Whether you just arrived as an ambitious intern or have been working for us for 20 years. We encourage you to keep learning and growing.
More
Our colleagues!
To really experience what it is like to be one of us, let us introduce you to a number of colleagues. All employees who get the most out of their jobs at Allinq. Get inspired!
Read more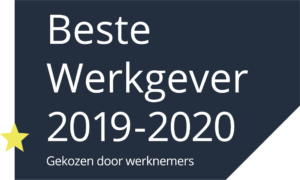 Best employer 2019-2020
Who knows better what it's like to work for us than you and your colleagues? So we asked Effectory and Intermediair to ask our employees what they think of us as an employer. The scan showed that we score higher than the national average for good employership! So since 2019 we proud carry the "Best Employer" label.