Strong and reliable in civil work
Allinq is also making good progress internationally. For example, the German branch has grown enormously in its ten-year existence. At the beginning of 2022 a subcontractor was taken over and Allinq Infra GmbH was established. This subsidiary of Allinq is an independently operating civil infrastructure company, with all knowledge and equipment in-house. They ensure that more and more German households are quickly and effectively provided with fiber optic connections.
By 2035, 80% of Germany should be connected to fiber. That is a serious ambition in a country of that size, but one that Allinq Infra GmbH is happy to contribute to, says company manager Richard Lansink. He previously worked at Venneman, Allinq's first subcontractor in Germany, and moved to Allinq Infra after the takeover. Just like the entire staff. "We wanted to be part of Allinq. It is a social company that cares about its employees. Being the daughter of such a large company entails certainties. That gives us a certain peace and stability, which we are very happy with," he says.
Everything in-house
The activities have remained the same after the takeover. "Actually, we don't do anything different than before: we install fiber optics in Germany and connect people. We do all the work ourselves: from digging trenches, laying cables, compacting soil, repairing paving, blowing in fiber to bringing the cable into the home. The only thing we don't do, is the engineering work, i.e. making drawings. We don't have the expertise or capacity for that. We are really focused on civilian infrastructure." To carry out the work, the company also has all the equipment and fleet under its own management. Of about sixty people at the beginning of this year, more than eighty employees now work at Allinq Infra GmbH. In addition to five people in the office – including Richard – project leaders, executors and teams who do excavation work, take care of house connections, assemble and blow in cables, finish assembling and welding. "In principle, we do not work with subcontractors. That works a bit differently in Germany, as the main client also must give permission for this. Because we do everything ourselves, we can guarantee that it will be done right. We are leading in projects: that means that we sit down with the main contractor ourselves and handle the projects from start to finish. That provides the clients with a lot of security."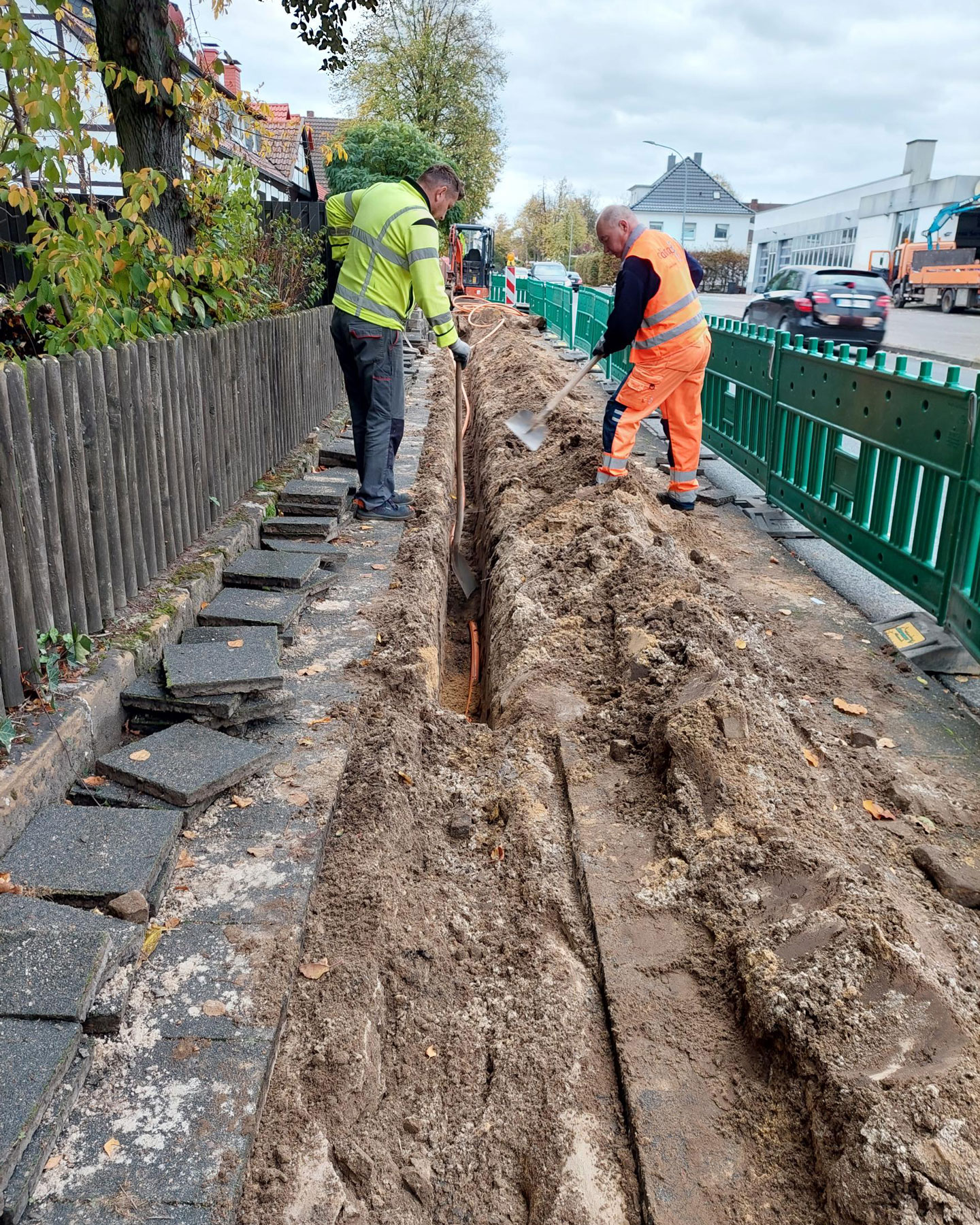 We handle projects from start to finish. That provides the client with certainty."

Richard Lansink
Multiple projects
The office of Allinq Infra GmbH is located in Gronau, not far across the border from Enschede. Richard: "Currently, Allinq is working on projects in Vechta and Westoverledigen. A project for Firma Beermann will run in Halle until the end of 2023. We are currently working for EWE Netz in Garrel, followed by a project in Osterholz. In Gronau itself, we started at the beginning of November as one of four contractors on a project for Stadtwerke Gronau with a duration until the end of 2024. We are also negotiating with EWE Netz about follow-up projects." Although there is a lot of work, Allinq Infra manages the staffing well. "We have traditionally had many Polish employees. Also a few Dutch people, because Venneman was originally a Dutch company. In the future, we would like to focus even more on diversity among employees. With Allinq as a reliable and social parent company, that should not be a problem."