This is how we want to offer added value to our clients
17 November 2020
In 2019, Allinq CEO Wim Beukers made it very clear to all employees: "By 2025 we do not want to be the largest,  but the best supplier for telecom infrastructure owners in the Netherlands, Belgium and Germany." A solid ambition. An ambition that we take very seriously and that we work hard to achieve with our entire team. In this article we elaborate on the 'how', 'what' and especially 'why' of our strategy.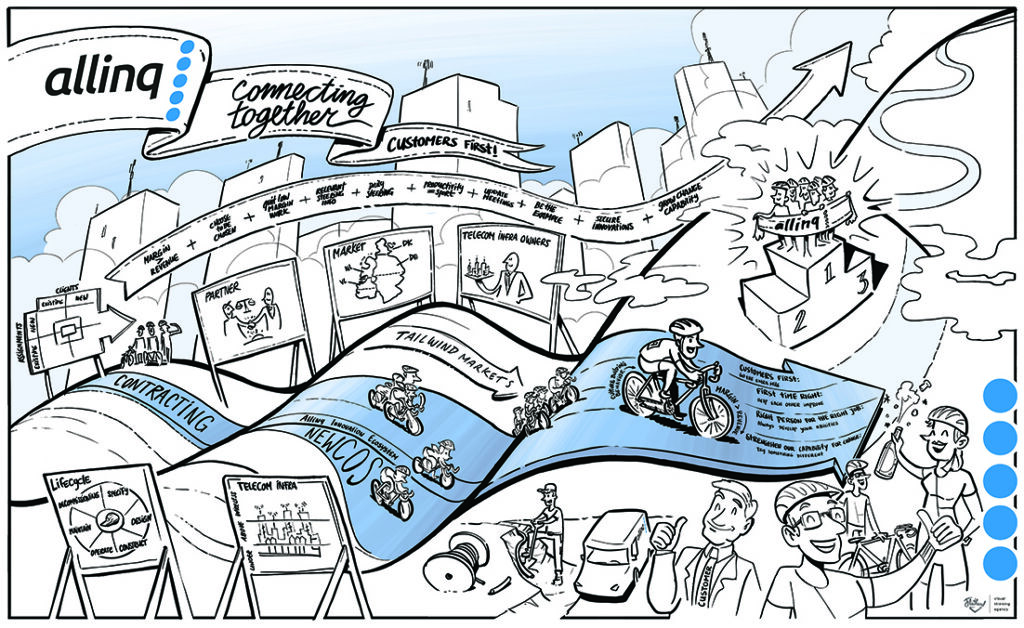 Make sure we still exist in 50 years
When Wim became CEO of Allinq in January 2010, he was given one clear assignment: "Wim, make sure that we still exist in 50 years." Now that the telecom market, including us, is changing significantly, we decided to further define our route towards that deep-rooted dream. Because in order to still be able to work for our customers in 2060, we must excel at what we do now. Stand out. Offer more than just good networks. To be of real added value.
A partner in business
In order to truly be an asset to our customers, we want to know their company and ambitions thoroughly. By knowing exactly where they want to go in the long term, we can help them proactively. As a partner in business, we look at the entire life cycle of networks and we actively look for opportunities that yield something to our customer. Proactively. Inventive. And helpful.
Grip on the complete life cycle
With our Allinq Infrastructure Management model (AIM), we control every phase of the network life cycle: from specification, design, construction, maintenance to decommissioning. Whether it concerns coax, glass, mobile or fiber; underground, above ground or wireless; we've got it all. Accordingly, we think along (on request or unsolicited) about the ways to extend the lifespan of networks, increase capacity or, for example, reduce outages, so network owners can get the most out of their assets.
Smart Asset Management
We believe in smart. In smart services. In new solutions. In innovative open collaborations. That is where the strength lies for the long term. As stated in this Vision, we are continuously working on solutions with 3D modeling, augmented reality, internet of things and other innovations that help to manage assets in a smarter way.
De Vital Few
Our people are curious; always looking for progress. They are passionate about their services, ambitious in their own development and collegial towards each other. We linked our strategic plan to that culture, the DNA that flows through our veins.
To offer added value… We put our clients first
We train, motivate and facilitate our employees to really get to know the ambitions of our customers. To discover what makes them happy and what their organisation wants to achieve in the long term. With that knowledge and a focus on the total life cycle of networks, we stand as a proactive partner next to our customer. We think along with them, try to surprise them every now and then and help them to always get the most out of their network.
To offer added value… We stimulate strong capacity for change
"We have always done it this way" is something we don't like to hear. By being close to our customers, inspiring each other and always wanting to move forward, innovation is in the air. In Allinq Labs and our sandbox we pioneer with each other, with partners, with students and with customers. We investigate the possibilities of virtual reality, new excavation techniques, innovative connection tools and many other things. We pitch new ideas and encourage each other to remain curious. We are happy to take our customer along in that atmosphere!
To offer added value… We reset waste to zero
Our teams consist of professionals in many different areas. By connecting them to each other – also in times of COVID-19 – and letting them learn from one another, we keep us on our toes and minimise our chances of error. We help each other with daily stand-up meetings, error-free reporting and the space to point out opportunities for improvement. This is how we offer maximum reliability.
To offer added value… We put the right person in the right place
Allinq workers are passionate. Everyone within our team is therefore given the opportunity to grow within our company. For example, we offer more than 100 e-learning courses, let colleagues collect knowledge in external training courses and give people with specialist experience a platform to share their vision, knowledge or ideas with colleagues during expert sessions. In this way we are getting smarter and growing together.
We enjoy learning from our customers
The aforementioned strategy is not one that has been placed on our company from above. It is an approach we believe in. Which already feels very personal to us. We hope that our customers experience it the same way. That this strategy is not special, but simply "typically Allinq". If that is not the case everywhere, we would also like to discuss this and we seize the opportunity to learn from our clients. To become an even better partner and to be able to help them even better. Because building a long-term partnership that feels good for  everyone, is what we are living for!