Allinq seizes opportunities through collaboration Radiocommunications Agency
14 April 2022
Together towards a safely connected Netherlands with less excavation damage
Radiocommunications Agency Netherlands. They watch how we work, point out points for improvement and can impose strict rules and sanctions. Annoying? Or a great opportunity to improve? We decided to see the involvement of the Radiocommunications Agency Netherlands as an opportunity. A chance not to grumble about what has to be done, but to devote ourselves wholeheartedly to the further development of our underground work. And to do so with success. We achieved our CROW 500 proof target and were asked by the Radiocommunications Agency Netherlands to inspire other excavators with our work process. Here is a look back and a preview of the educational collaboration.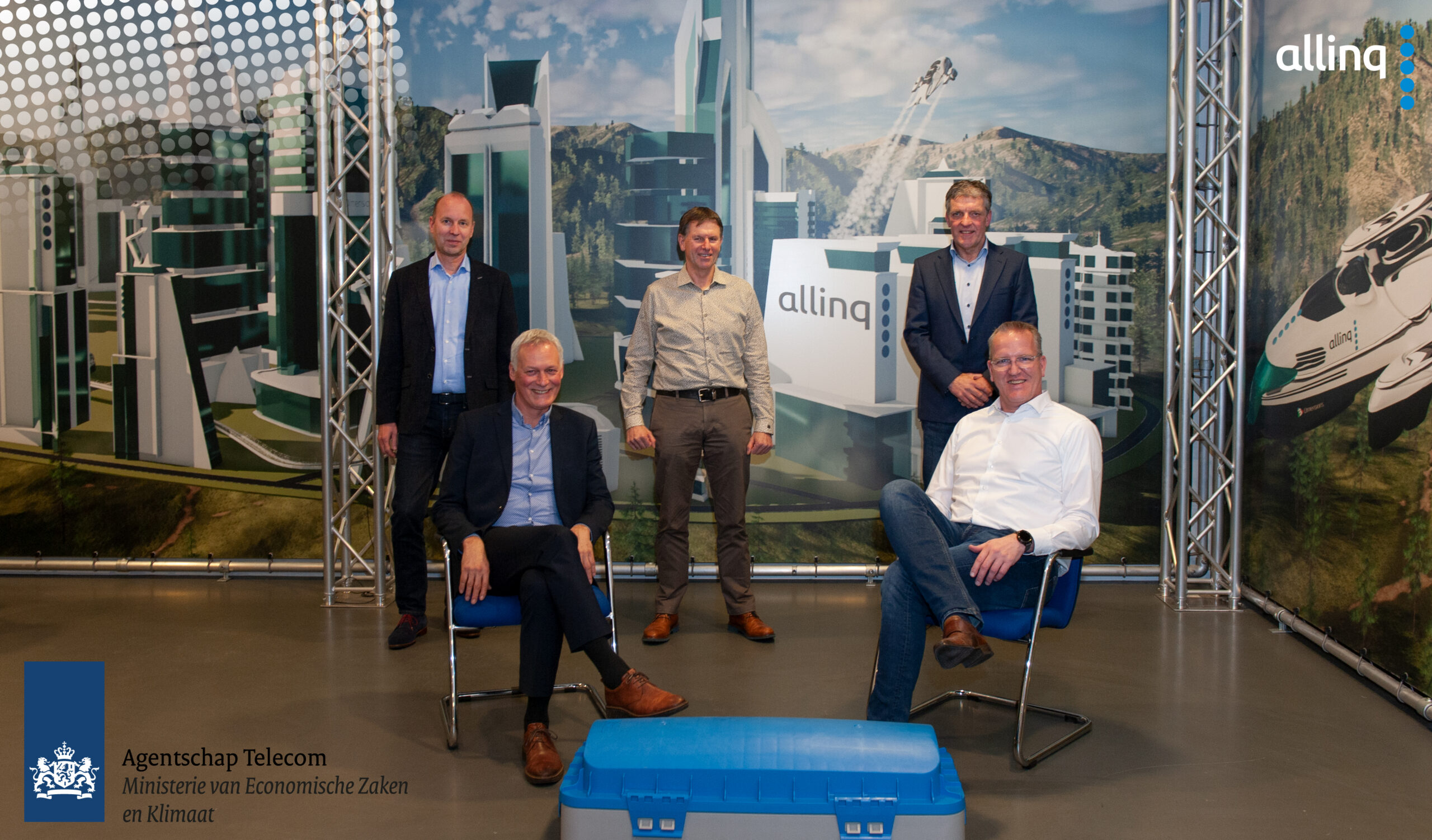 Standing: Klaas Talma (COO Allinq), Harry Nijland, Bert van Ark (director SCT / Allinq)
Sitting: John Derksen and Wim Beukers (CEO Allinq)
The reason
It seems so simple in the office. Missile boring from A to B; neatly away from the registered energy grid. But in the pouring rain in the gully it turns out to be somewhat more complex. Certainly if the energy grid turns out to be much closer than the drawing indicated. The result: a dangerous situation for our employees, residents without electricity, work delays and, to top it all off, an invitation from the Radiocommunications Agency Netherlands.
That's challenging. But the agreement and the conversations that followed turned out to be our flywheel for real change. For us and other groundwork contractors.
CROW 500 proof as of January 1, 2022
Excavation damage received our full attention with a steering and working group. We registered, reported, researched and evaluated. We discovered opportunities for improvement and took them seriously. We developed an app, periodic damage consultation, better instructions for subcontractors, a permanent internal environment manager, a strategic merger of all departments that build & dig, training for the entire team, dialogues in all layers of the organisation and better control and guidance up to the slot. Adaptations that were highly valuable and are set up in such a way that we continue to improve. Thanks to the encouragement of the Radiocommunications Agency Netherlands and the efforts of our team, we received our CROW 500-certification on time.
Collaboration with Radiocommunications Agency Netherlands
While we worked seriously on the process for structurally reducing excavation damage, we strengthened our relationship with the Radiocommunications Agency Netherlands. We spoke monthly and went from pointing out mistakes to looking for solutions together. In 2020 we were invited as guest speakers to talk about our approach and progress at the Webinar of Radiocommunications Agency Netherlands. In 2021 we discussed our achieved results at the Infra network meeting in Harderwijk. Next, John Derksen – Head of Supervision of the Radiocommunications Agency Netherlands – visited Allinq in 2022 to take stock together. And we did well, looking at the review we received from Radiocommunications Agency Netherlands in that conversation. We were praised for our approach and asked to safeguard our work process together. This way, other organisations can also benefit from everything we have learned and developed in recent years. With a view to a safely connected Netherlands, we are more than delighted to participate in this.
Radiocommunications Agency Netherlands about Allinq's efforts:
"Allinq has picked up the gauntlet and is ready on time. On January 27, Allinq sealed this in a conversation with John Derksen. Over the past two years, Allinq has taken the necessary steps in close consultation with the Radiocommunications Agency Netherlands to be able to work CROW-500 (C5P) proof as of January 1, 2022. In doing so, it was examined how knowledge, ability and will could be reconciled with each other. This was achieved by eating the elephant one bite at a time. Step-by-step, for example, the following improvements were made: Better training of the mostly foreign staff via toolboxes, training "glashelder" and e-learning, more control at the trench through audits by an Allinq quality controller, reporting and assessing any damage using a damage reporting app, and not working with a 'who is going to pay for this'-approach, but from a 'what can we learn from it to prevent this in the future'-mindset.
In relation to many companies, Allinq has now built up a clear lead with regard to C5P working. In the conversation, we therefore discussed how Allinq can safeguard and expand this work process, so that Allinq can also require C5P work from its clients and subcontractors. We also looked at how the Radiocommunications Agency Netherlands can support this process."
Thank you Radiocommunications Agency Netherlands
We thank Radiocommunications Agency Netherlands and in particular John Derksen for their critical view. For their confidence in progress, improvement and the future. They continued and continue to encourage us to do even better. To share our knowledge. That's valuable. Those are collaborations that make the difference! We will continue on this path. Towards the use of CROW 500, strengthening our learning capacity, more intensive cooperation with network owners and the further application, evaluation and effectuation of the process to prevent damage. By keeping each other sharp, we make the difference!